That's the plan, and moving to the United States, in the year 2014 that is.
You gotta start somewhere right?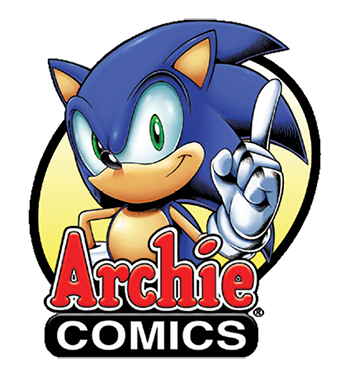 Now before anyone jumps the gun let me clarify:
I currently don't work for Archie Publications nor have I been offered a position, however it's about time I set myself a goal (a realistic one while at it) - and that is do whatever it takes to work for Archie Publications in the next 5 years.
I'm telling you all this because I invite you all to my journey for the five years. I'm going to document whether I've succeeded or failed in my goal which will become a story and a life lesson in itself.
My family and close friends know that I'm good at saving money and boy have I been doing it well (for the past 10 years or so). I've managed to save up the $70,000 USD that I needed to last me 2 years at the Academy of Arts in San Francisco (it helps when you're not so materialistic and don't have a girlfriend - yet!)
It took me 10 years to realise that I have some talent in me, it took me another 10 years to really decide on whether or not I should pursue a job that can utilise this talent - that is, my ability to illustrate.
So yeah guys, I'm going to do my best to 'make it' into Archie Publications. I can definitely see a very good future for the company and their line-up of comics to offer for the next, perhaps, 5-10 years! The company was actually founded in 1939, that's more than 70 years ago and the company is still growing strong.
It is pretty obvious that I would like to work in the 'Sonic the Hedgehog' department where currently the three guys leading the future of this series are: Ian Flynn (
prime writer
), Tracey Yardley (
prime artist/art director
) and Paul Kaminski (
prime editor
). But I don't want to limit myself to that, and hopefully when I do some art courses I will seriously improve on my ability to illustrate, edit, create and publish concepts.
So what is my plan?
Well my plan is this:
2013 - February to June: Complete the first semester of Graphic Design (Diploma) at my local vocational training and certified institution www.central.wa.edu.au/Courses/…
2013 - July: Travel to San Francisco. Catch up with friends. Visit Academy of Arts school and get a 'feel' for the place. Possibly do an advance enrollment into the 'School of Illustration (AA)' course www.academyart.edu/illustratio…. Travel to San Diego Comic Con and get a portfolio review and advice from the Archie booth.
2013 - August to December: Successfully complete the Graphic Design course and get my Diploma. I essentially want to be competent in using Adobe ILLUSTRATOR & Adobe IN-DESIGN programs which are two programs highly regarded by graphic designer professionals (this will enable me to do page spreads, create attractive articles on the web, logos and illustrations used for advertising - a good skill to attain if you're working in publication!).
2014 - Spring (ie February in the US): Enrolled to 'School of Illustration (AA)' course, fly over to San Francisco, settled my rent in the city www.usastudentrooms.com/rooms.…, and begin the course - which will go on for the next 2 years leading into graduation (if successful) at Fall 2015 (ie September in the US).
2016 - ?: Hopefully at this point I would have equipped myself with an above industry standard portfolio, a significantly enhanced ability to illustrate just about anything that comes to mind or anything that is requested (not just fan art), a network that will help me gain employment (first preference being - Archie Publications).
So yeah that is the plan. Oh and I've decided that I would like to pursue a new life in the United States, and of course I know all about the economy and whatnot but really if you're passionate enough and good enough at what you do I'm pretty sure the opportunity is there.
The other thing is I love American culture, the landscape and the diversity it offers. And more importantly I want to, well,
perhaps marry somebody there one day too.

Now I know it's a bit silly stating stuff that's pretty darn personal but hey we live in a crazy world and people already know I'm eccentric (
hopefully in a good way!

).
Over the 20 years living in Australia I've been blessed with a loving and supporting family, a house to live in, an education, a well paid job and the freedom to do whatever I want. I've been really lucky when I compare it to the world that is suffering from all sorts but we just gotta deal with what we're given right?
Anyways I quickly discovered that perhaps taking the easy route in life (
that is, continue working at the casino, earn plenty of dough to save up for a house, find a girl and have kids
) is not really what I want. I'm bored with life at the moment and it's time to find some meaning in my life.
I know I love Sonic the Hedgehog, I know I like to entertain, I know I can draw stuff pretty well and I know that I have enough money to survive tough times.
What's missing are these two things
:
A career where I can go beyond and above on what I can already achieve, and have a passion for doing it.
Finding the girl of my dreams.
Now I've said this to my colleagues at work (
and to my family - and some close friends of mine online
) that I'm very picky when it comes to finding the girl that I really want to be with for the rest of my life. At this rate I think I'll be a bachelor forever, so perhaps I'll have to be a bit flexible with my pickings.
But anyways, besides the point - I'm going to let you guys know that I have yet to have a date, to have kissed, to have made-out - or to be more direct - have sex (
omg! I'll be the 40 year old virgin at this rate! That joke never gets old for me with my friends, and you know who you are! lol
). Ideally I'd love to do all of this with my first date, the one where I'll pretty much be stuck till the end of time, and at this point I'm pretty happy to abide by that. However friends tell me that I should at least do it while I can, because that way - when you have the experience - you can make love better to your true girl. And you know they're right, they do make a good point.
.............
What the hell did I just say?
Anyways the kind of girl I'm looking for in general (
you can already tell that I'm advertising myself in advance - lol
) is someone who has a nice smile, is approachable, likes a good laugh, likes her food, is health conscious, like to travel and do outdoor stuff from time to time (
like hiking/camping and such, or even visiting new places
), is artistic (
don't have to be Leonardo Da Vinci, just someone who can draw cartoons and have fun doing it - it'll be a bonus if they're amazingly talented!
), isn't too materialistic (
to a degree
), likes the simple things in life, and crazy as it may sound - someone who knows Sonic the Hedgehog inside out or has grown from it since being a kid - ESPECIALLY the Archie Comics series.
So yeah if you tick those qualities, and you are attending Academy of Arts in San Francisco in 2014, you're a girl in your 20's, hell let's hook up sometime, perhaps coffee or a movie and you can crash at my private pad anytime!



*SHOT*
*A-hem* So why am I looking for the kind of girl as described above? Well let me tell you - I'm someone who is approachable, likes to smile and likes to make that person happy, I'm bad at jokes but I'll try to entertain in some other way (
perhaps do a silly impression of your favourite character in a cartoon/movie/comic?
); I'm good with my cooking so I'd love to cook stuff for you when I get the chance; I'm currently in shape - not overweight nor super fit - but I'm health conscious and believe that good health leads to not only good wealth but a longer and happier life; I've traveled around the world five times so perhaps it's time I share my adventurous side with you at other places I'd like to take you to for a holiday; I've been drawing since day one and I still don't find myself artistic yet - perhaps your experience can help enlighten me in becoming a better artist; I'm personally not materialistic and really embrace the simple joys in life (
like going out to the farmer's markets on a weekend - sample local produce for lunch and take home some fresh ingredients where I'll use it to make ya an awesome dinner, and perhaps I'll pick some flowers for ya along the way
); and finally, there is an endless list of reasons why it'd be so cool if you have some deep history with Sonic (
again I emphasis the comics part since perhaps one day we may be working together at the company that creates the publication every month
).
All in all, I can't wait to begin this new life of mine. It's been a long time coming saving up all that money to prepare my immigration to the United States and perhaps landing a job at Archie Publications.
This is really only the beginning and I've got PLENTY to prepare. And heck I haven't even mentioned my back-up plans just in case I can't get myself into Archie Publications over the course of my journey -
you always need a back-up plan
.
I will continue updating about my journey as well as any new plans that will help me progress throughout the year, it will be an ongoing theme on top of any miscellaneous journal entries that I'll be posting on occasion.
Be expecting some pretty neat stuff in the coming months. Take care everyone, enjoy some happy snaps and here's wishing you all a Happy New Year in 2013!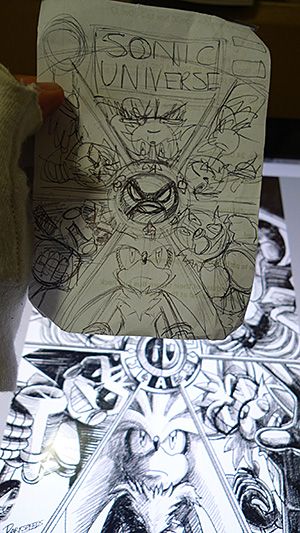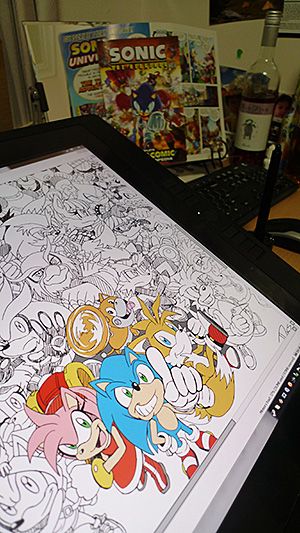 Oh and this one's for you

, as promised!