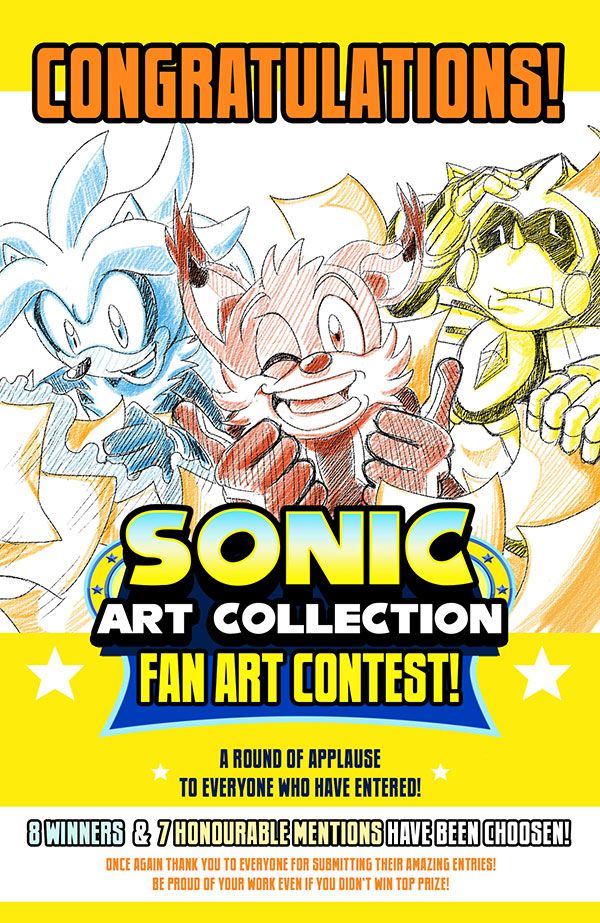 Hello everyone, thank you for being patient with me! I'm going to get the show rollin' whilst Silver, Larry and Shard are helping me out re-sorting entries to be presented here!
It's been a real pleasure hosting this contest made especially for the magazine in which I have plans to print off for the Sonic Archie panel to receive as a portfolio submission at
Comic Con International 2013
in San Diego, but also, to the 8 winners of this contest and Featured Artists who will be contributing towards the book.

Before I have the privilege of commencing the awards ceremony I'd like to point out
FOUR IMPORTANT ANNOUNCEMENTS

To the 8 winners: You will not only have your entry featured predominantly in the Fan Art Contest section of the magazine but also be given the opportunity to give me a UNIQUE TITLE and a RATIONALE for your submission (MUST BE 100 words or less for the rationale), both of which will be printed next to your drawing with your name and city/country of residence.

You will also be receiving ONE copy of the magazine - be sure to PM/email me your FULL NAME and valid POSTAL ADDRESS (a contact number is required - United States Postal Service requires this detail if you live in America or overseas) in order for me to send the magazine successfully.
To the 7 honourable mentions: You will have your entry featured in large format with the given space in the Fan Art Contest section. You will also be given an opportunity to submit a UNIQUE TITLE and a RATIONALE for your submission (MUST BE 60 words or less for the rationale), both of which will be printed next to your drawing with your name and city/country of residence.
To the rest of the fantastic entrants: You will have your entry featured among all entries to the contest with the limited given space in the Fan Art Contest section. You will also have a chance to provide me a UNIQUE TITLE and a RATIONALE for your submission (MUST BE 30 words or less for the rationale), both of which will be printed next to your drawing with your name and city/country of residence.
All rationales to be sent by Private Message or e-mail via darkspeeds@hotmail.com A good example of a rationale came from Euan Kennedy (aka ) who states: Title: Team Dark to Egg Pawn 5 Description: Pawns are the weakest pieces in the game of Chess. So, for Team Dark, Egg Pawns are nothing more than a warm-up session for them. Here's another from Michele (aka ) who writes: Title – We All Danced in Fire Rationale - "All hail Shadow"? It's not just him anymore! I drew this piece to show my appreciation of the character development Mr. Flynn has put Team Dark through. They've gone from wussy angst to aggressively true and strong, disbanding justice in places others can't reach. Rock on, Team Dark! You now have a special place in my heart.
To ALL Sonic Archie fans (including the ones who entered this contest: Here is a chance to get yourself featured in print! How? You know the FAN MAIL/LETTERS section at the end of every Sonic comic book? And how about that SUPER SHOUT-OUTS column that appear in the Sonic Super Special magazine?

I would like to get the best responses from you guys regarding the latest from the Sonic Archie series! The area of focus include: the epic journey that is CHAOTIX SAGA and the incredibly gut-wrenching adventure of ENDANGERED SPECIES.

Tell me how much you loved the fact that Mighty finally got his family back or tell us about how you feel for both Thrash and Knuckles' situation. Or you could tell us how awesome Team Fighters are (or not!) and the fact that Shard just recently made a very cool entrance and joined forces to kick evil butt? Or how about telling us when Sally is coming back!!? What about making mention of perhaps spotting Bivalve in one of the issues? Will Silver ever find the traitor?!?

Best to stick to the suggested topics but if you're itching to send me something else that relates to other Sonic Archie stuff I wouldn't mind listenin'!

So come on fans, you know the drill. Send your letters to darkspeeds@hotmail.com with the given tag-line and rules (IMPORTANT - make sure you forward your mail with the tag-line or they'll be dismissed/ignored!):



[Tag-line] Dear 'Curator of Sonic Arts'
[insert content/question/discussion/praise/feedback/criticism here] Only a maximum of 150 WORDS. Nothing more than that please!!
[insert details] Your Name and City/Country of Residence
A good example has been provided courteousy of Kirby M. (aka ) who writes:

Dear 'Curator of Sonic Arts'

Just wanted to say how great it was to see Shard again in Endangered Species. He's always a pleasure to see. Team Freedom reactions towards him weren't what I was expecting but I still enjoyed it nonetheless. Him and Sonic against the K.H.H. was really fun to read. And I really like how Shard handled himself too against Team Freedom. Almost like he was walking on eggshells.

Keep it up guys! And keep on juicin'!
- Kirby M.
 Ohio, USA



Send your Super Shout-Outs to either darkspeeds@hotmail.com or DarkspeedsTwitter with the following rules:


If sending by e-mail - [Tag-line] Super Shout-Out to 'Curator of Sonic Arts'
[insert content/question/discussion/praise/feedback/criticism here] Only a maximum of 140 CHARACTERS (equivalent to a Twitter message). Nothing more than that please!!
[insert details] Your Name and City/Country of Residence



Now without further ado let's begin the awards ceremony! Silver, Larry and Shard, if you would kindly pass me the entries for the presentation! Drum roll please!

THE WINNERS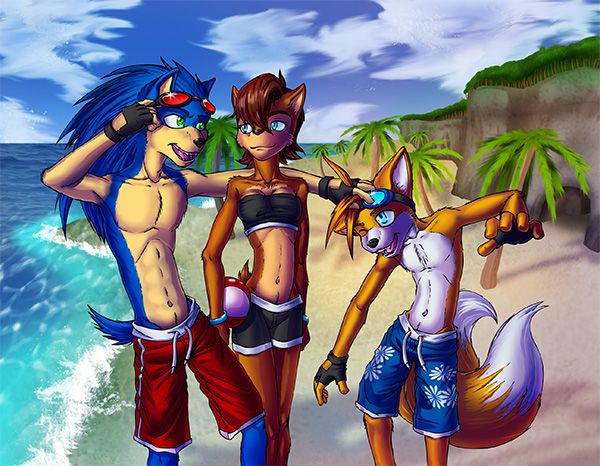 "The thing that stood out to me the most was the unique anthro-cartoon design that Lord-Kiyo has applied to three very familiar faces of Mobius Prime. It was great to see them in their beach wear. I was probably mesmerized by the stunning coastline and exotic waves cascading the sands. Great colours all round, fantastic shading work and finally the realistic aesthetics of their anatomy matched beautifully with the realistic backdrop."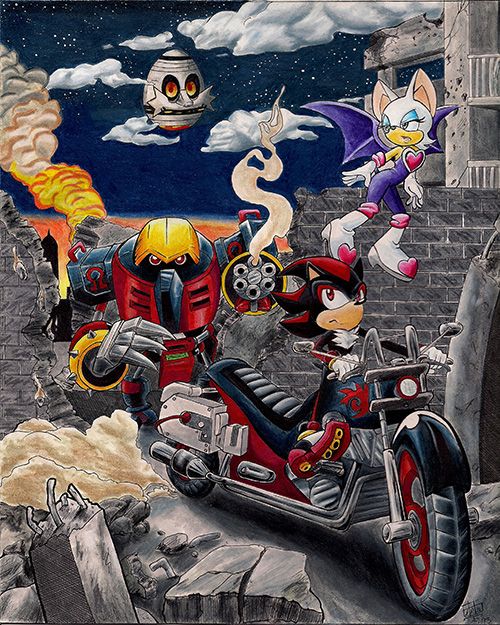 "This is an example of a Team Dark entry done with bad-ass detail. From the crumbling debris to the fiery city skyscrapers in the background to the flying Death Egg Mark II floating close to Mobius' atmosphere. It's almost like an Armageddon setting which is no stranger to G.U.N's top ops unit. The expressions coming from Shadow and Rogue desire for some room for improvement but it still captures that feeling of 'curiosity' which is something they often encounter during more complicated missions. Oh and Shadow's bike, killer (so is the arsenal that is Omega!)"
Ivette
"Ivette is one of twin sisters that I knew of who admires Sonic the Hedgehog and have done many wonderful cartoon drawings way back in the day. And now to have witnessed the evolution of her art is such a privilege. The kind of entries I'm looking for are the ones that tell a story. This one does it graciously and with great respect to the amazing Team Chaotix. Classic badniks, kick-ass Chaotix and the hunt for the Yellow Chaos Emerald is such an engaging combination."

"I can't help admire Saphfire's opening gambit to capture my attention - Sonic's stare. I can't explain it... He looks too darn, sexy. (A-hem). Anyway the predominant feature of her submission is the intense mood and atmosphere created from the combination of strong green highlights, shadowy background for contrast and the drama created from what looks like Team Fighters completely dominating Dr. Eggman's robotic minions. I love everyone's expressions and Tails' way past cool satellite device in hand - clever bit of detail!"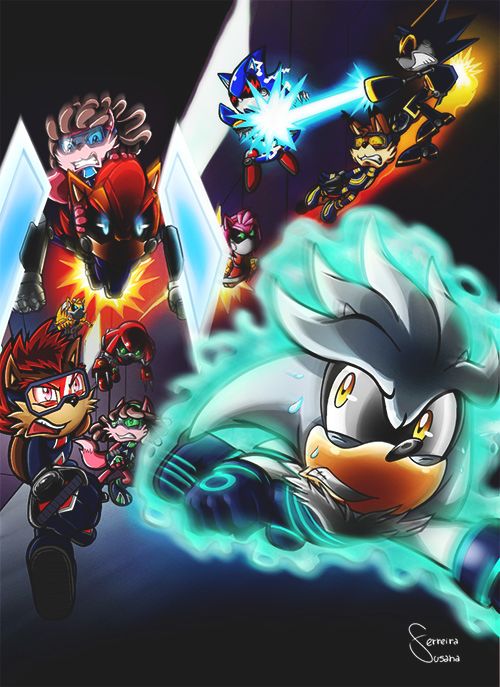 "I can't believe the number of Secret Freedom Fighter entries that I have been receiving for this contest - these guys sure became very popular real fast with the fans! However this entry, among all the clutter, stood out to be an exceptional one. Why? Well once again it's telling me an engaing story - there's plenty of action and drama to be experienced (ie their fight for survival and victory against the Metal series). The intensity of the drama was highlighted from the clever colouring and shading work. The blurring effects was also utilised really well for balance. A great entry"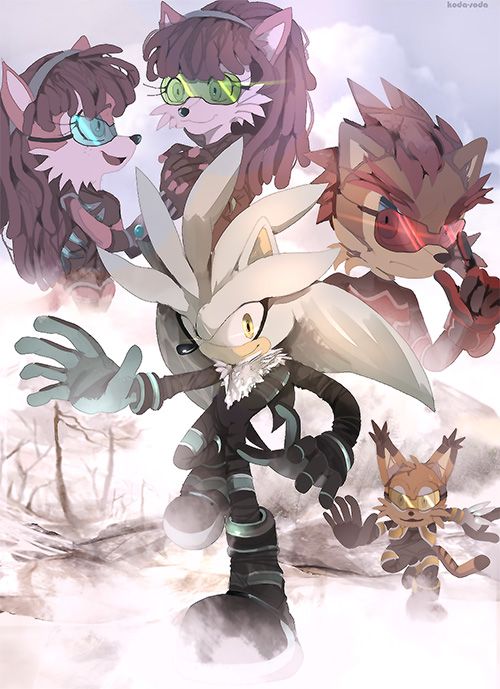 "Even when I asked for Evan Stanley's opinion she agreed this was an exceptional entry and one that had a unique style not seen before. When I first received this in my inbox I just knew that this was too good not to be in the top spot. Koda-Soda applied some wonderful composition throughout the piece - it flows beautifully. The slightly desaturated and washed acrylic styled painting looks complex yet very inviting to the eyes because of atmospheric value from the mountain setting (ala snow & mist). The only thing missing is Shard - perhaps he was on holiday!"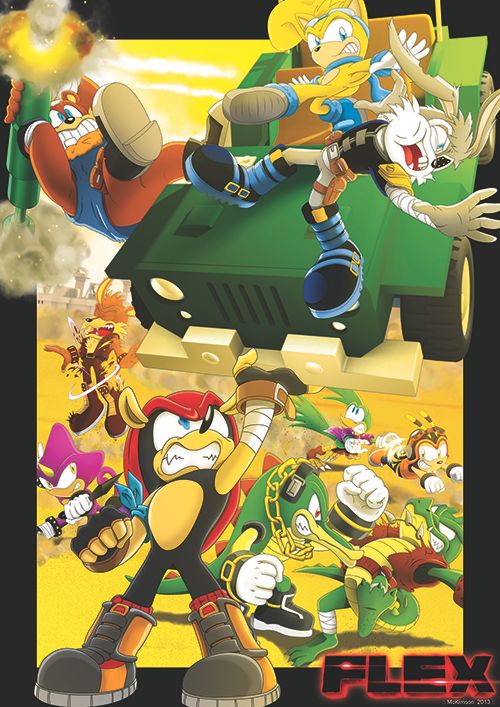 "McKimson originally had a poster style entry done that was based off the Chaotix Journey (specifically focusing on Mighty the Armadillo) and was already worthy for a top spot (check it out on the list below). This entry was still an exceptional piece because of it's narrative complexity, technical application of 3D effects and highly engaging composition. Some might argue that there is too much happening but I think McKimson did a great job keeping things balanced by playing around with space and positioning each character using the space available. At the end it was an economically produced masterpiece. Also the logo 'Flex' looks amazing."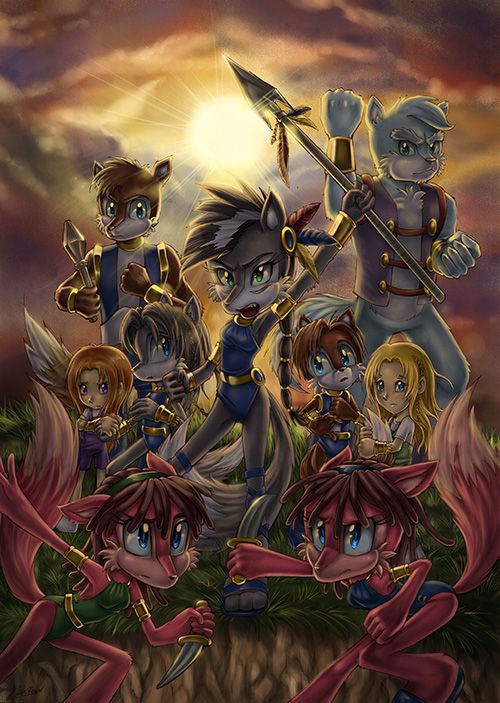 "This entry totally blew my mind away. First it's a group that not many people would usually go for - The Wolf Pack. And secondly it's a frickin' masterpiece, I mean look at the details! RTb had the patience to draw almost every single member of the Wolf Pack and to fit so many characters so well takes a lot of planning, a bit of risk taking, and plenty of talent. I love the 'feel' of this piece, could it be the majestic sunsrise over the Highland mountains of the Mystic Ruins? Or perhaps the incredible leadership of Lupe and her family rising above all odds? Whatever it is I congratulate RTb for producing an award winning entry."

THE HONOURABLE MENTIONS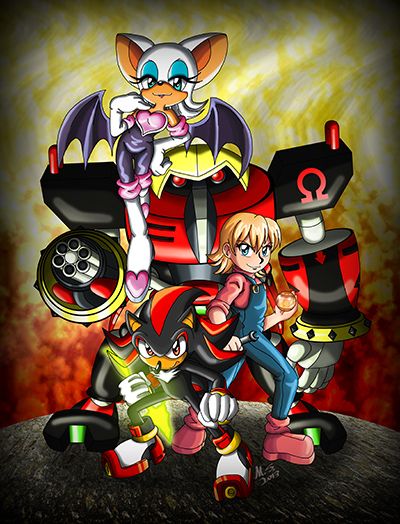 "This one came close to a winning entry. The merits of this submission include the fact that she not only drew Team Dark in perfect aggressive harmony but also the fact that she included one other vital member - Hope Kintobor! It's not often that you see artists that take initiative of thinking critically what additional element would make their artwork not fall into the category of the 'norm'.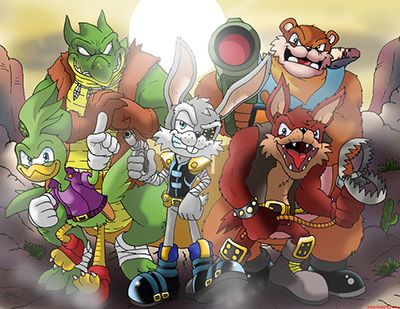 "This was the first entries that featured one of my favourite bad-guy-yet-good-guy groups in the Sonic Archie series - the Sand Blasters. The group pose may be generic but it's done well. I can feel menace written all over their faces and poses (except for Jot, he seems too happy to be in the picture! Ha ha, but that's canon though because that's his personality even in gang mode) just how those dirty Sand-blasters would like it."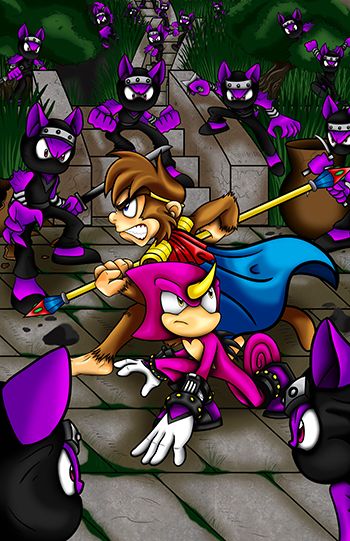 "This was a unique entry because of the fact that it starred two characters that come from the Eastern Kingdom! Again this is a concept that is not often explored and some are brave enough to demonstrate that there is something to be admired in the East end Mobius. There is a lot of tension to be felt when surrounded by a battalion of enemy ninjas who can (and will) end you in more ways than one - Xaolin26 captured this pretty well. Still are a bunch of bat-ninjas going to stop the almighty Monkey Kahn and the formidable Espio the Chameleon? I don't think so."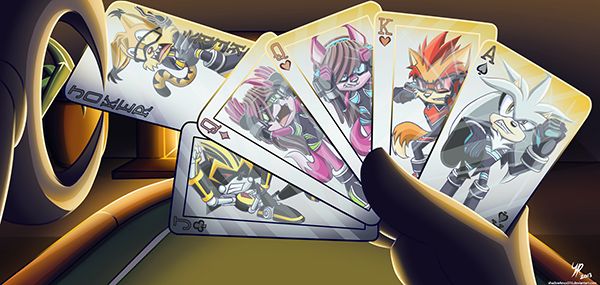 "ShadowKnux's concept piece came pretty close to gaining a top spot in the competition - the merit truly lies in her incredibly clever idea of The Secret Freedom Fighters being trapped under a sinister spell from their arch nemesis and threat - Ixis Naugus. She went as far as to add more depth to the concept by taking advantage of the code-names of each of the SFFs and turned them into the metaphor of card signs - literally! The technical aspect of her submission was also pretty well done! An amazing effort nevertheless."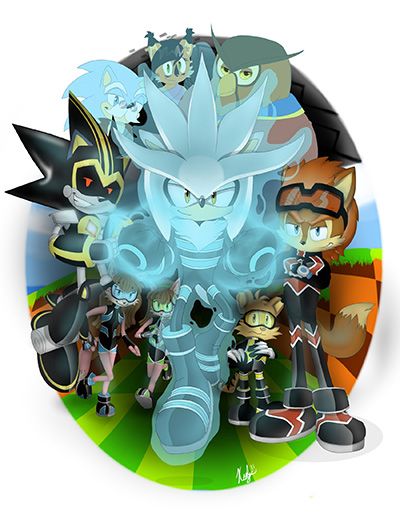 "Oh goodness me, this was also another very close call to be considered a winner. What I loved most about this Secret Freedom Fighter piece as compared to the other ones is the fact that MorayK included the other important players in the organisation such as Nicole, Uncle Chuck and, of course, Director Harvey Who. Everyone was well drawn, well coloured, had great poses and convincing expressions and the overall design looked clean and simple which is very pleasing to see. The white space balanced brilliantly with the super details at the center stage of this wonderful entry."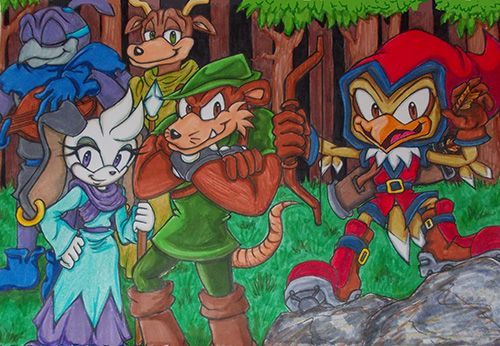 "How I wished there were more Mercian Freedom Fighter tributes! This one is no exception though, Sky did a brilliant job keeping it in theme with the Robin-hood and his band of Merry Men mentality for this gang from Deerwood Forest. It was pleasant to see another entry that fully utilised traditional mediums to finish off their artwork - the coloured texters/marker pens do give it that added layer of complexity in the colouring work. A flamboyant and robust entry!"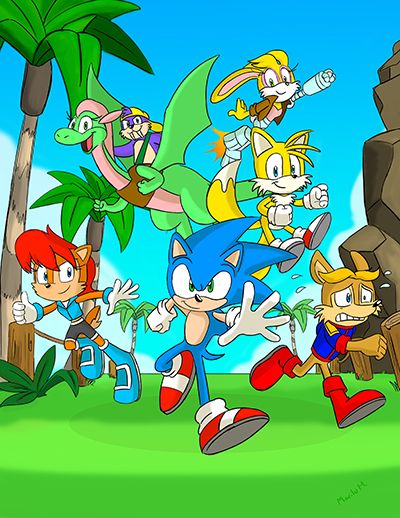 Marilu
"Marilu, who is one of the twin sisters I've mentioned earlier in the winners category, she is also a capable contender in the competition but didn't quite make it to the top tier - she almost got there though (I was rooting for you!). What I love most about her entry is the introduction of the classics with a contemporary twist added to it. This is probably the very first fan art of Dulcy I've ever seen and I'm glad to have witnessed and embraced an entry that paid tribute to a character never forgotten in the Sonic SatAM/Archie Comic series. I enjoyed the amusing expressions on everyone and the composition is well done. Overall a fantastic effort!"

THE REMAINING & AMAZING ENTRANTS!

[Note: I'm going to come back tomorrow evening to update the full list here - I need to sleep! X_X; For those who are not in the list here please post my your link on this journal and I'll get it up here for presentation. Thanks!]

("It's super neat how CandiPheonixes actually drew the Bride and Clan of Constant Vigil! Chameleon Ninjas rock!")










("Sorry but I can help but say: 'Elias looks so darn sexy here!'. That is all!")


:thumb356484116:



&


("I actually would like to make mention of this entry - a great effort to Fruitso for doing a piece not many would usually go for - The Downunda Freedom Fighters! Good on ya mate!")



:thumb357269676: