Thanks to Mike, Project24 DJ's and Audience!
(05th December 2010)
Mike Pollock was awesome.
Nuff said. I had an excellent time catching up with him as well as having fans share in their support for the guy - he's done an exceptional job upholiding the reputation of Dr. Eggman's voice and character (English version).
Project24 is still on the go!
T-Bird is doing his Afternoon Special T-Time,
be sure to listen to it now
!
Thanks once again to everyone involved in Project24, I can't ask for more (the only downfall is the minor screw up at the start of the show but it's all good overall).
To listen to the show I did with Mike Pollock and additional guests: Concorde Hedgeghog and Segasage
click here
.

DJ Darkspeeds See You All In 6 Hours!
(05th December 2010)
Hope you guys have been tuning into Project24! So far it's rockin'! Plenty of partyin' and plenty more to go! See you all very soon and thanks to all of the SSR DJ's who have been doin' their part entertainin' the listeners so far! Listen to
Iceman Etika's COLD HARD FACTS
right now (it's too hard to miss out on his groove man, don't miss it!)!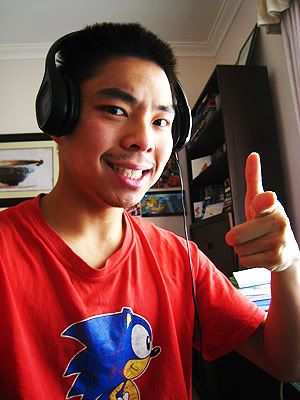 Project24 This Sunday!
(02nd December 2010)
Well it's only 3 days away from an incredible event held exclusively at
SEGA Sonic Radio
hosted by The Sonic Stadium network.
Adam 'T-Bird' Tuff
(a great mate, the cool guy, and also a bloomin' awesome DJ) is giving away plenty of freebies during his two hour program (right after mine). Be sure to check out the full details
here
.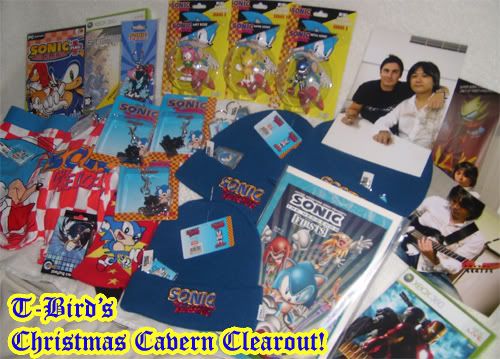 To stay tuned to the program and chat amongst a whole bunch of fans live, head over to the chatroom by clicking on
BMN
(site tech guru for TSS) below. See you all very soon!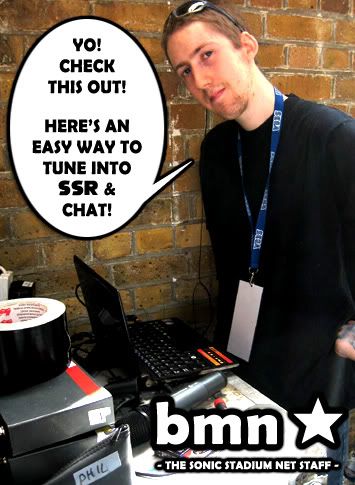 Project24 Delayed!
(20th November 2010)
Whoops I should have posted this a few days ago! XD; Been busy with mah comics, work at the casino and spendin' quality time with the family, what more do you expect?

Project24 that is created and organised by my Aussie mate
Chris Neilson
, DJ host to the bloomin' awesome podcast that is
Blitz n' Pieces
has announced on TSS that the program is to be
delayed till the 5th December 2010
.
This is done in the best interests of all the DJ's involved (some had exams during that time period, some had personal commitmnets on the day and while some were on holiday and won't be back till the week after).
I've posted an e-mail again to
Mike Pollock
and he has confirme that he will continue to be a special guest during my timeslot on Project24. Thanks Mike, I'll make sure we'll have a blast and make the most getting the word out that you're one awesome guy. *thumbs up*
So guys and gals, put it on your calender - Project24 on 5th December 2010. Don't miss it!

The Man With Many Voices Returns!
(14th November 2010)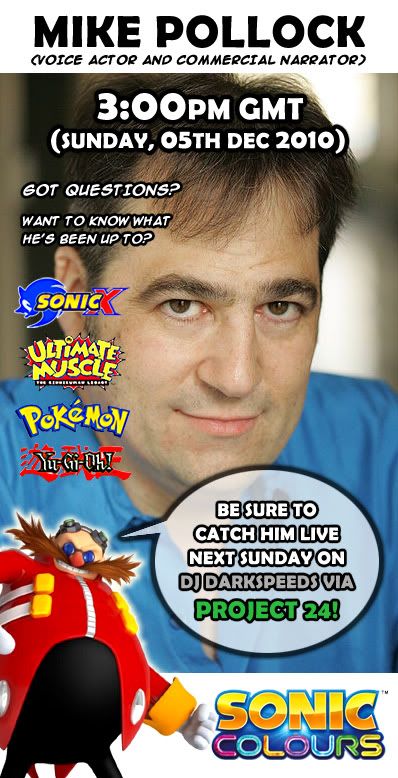 It's been a year since we all caught up with the talented, and ever so humble,
Mike Pollock
on
SEGA Sonic Radio
and I'd like to proudly confirm that he's kindly donating his time to join us yet again.
Opportunities like these don't come around so often so please don't hesitate to send me your
'Questions to Mike Pollock'
via note to
my inbox
via deviantART or
email me
.
The best ones will be picked and read out live to Mike Pollock during airtime, your name will be made a mention too. If you'd like to learn more about our experience with Mike Pollock
last year
on DJ Darkspeeds you can
DOWNLOAD THE EPISODE
(please see Episode 10).
I definitely had a great time interviewing Mike last year with my special guests
Adam 'T-Bird' Tuff
, and
Bryon 'Psyguy' Beaubien
. Mike's a really nice guy and he's been able to share with us a insight to how the voice over/acting industry works, in additon to that he's been describing his experience and stories that will help inspire those who would like to be just as professional as he is to the craft.
I had a re-listeing to DJ Darkspeeds: Episode 10 and it was mind blowing how he perfectly pitched the voices of various characters during the hour, it was lots of fun and I'm looking forward to our catch up next Sunday. Hope you can join us then.

PROJECT24 via SEGA Sonic Radio
It returns! And with great success too. Learn all about the special program that is organised and originally created by my mate
Chris 'Blitz Chris' Nielsen
(who is a proactive 'Aussie' member of the Sonic UK community and DJ in his own right). He's been doing a great job taking the management role of SSR and I look forward to catching up with him when we get the day off - probably have a typical Aussie BBQ at my place.

Now then for more information about PROJECT24 please click on the image below you.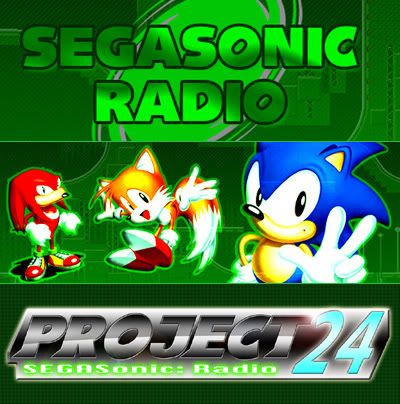 The general jist of the event is it is a 24 hour podcast of all the shows featured on SSR on that particular Sunday date.
The entire list/program on Sunday can be viewed here
. My show with Mike Pollock will be slotted at 3PM GMT. That'll be
10AM for those over in the East Coast (US)
and
7AM in the West Coast (US)
!
There are plenty of Sonic prizes to be won during the 24 hour podcast! Check out the photo below ya!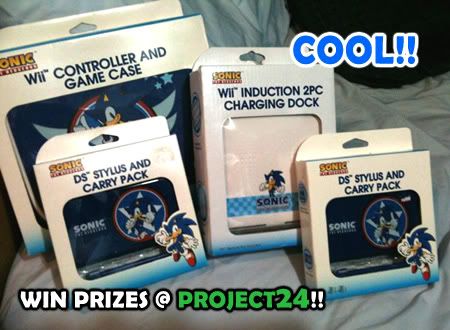 Don't forget to tune in! There's no excuse to be doing nothing on a Sunday, Project24 is perfect for those who want to have fun and learn more about the shows and DJ's featured on SSR.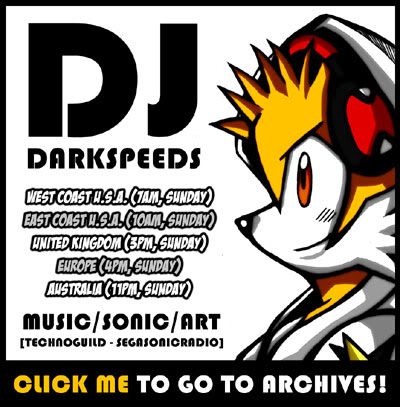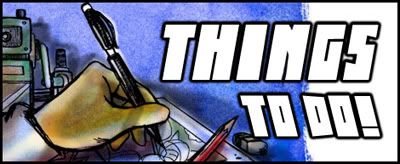 Complete the next GRANsD HUNTER page for Sunday! (40% complete)

Prepare for the catch up show with Mike Pollock for next Sunday's Project24.