So what's thie Sonic Art magazine all about?
First here's what would look like in the newsstand or local comic book store shelf.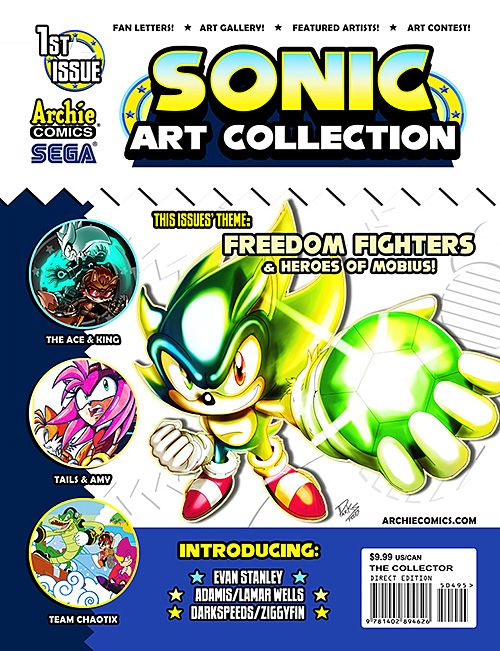 Not bad huh? Just to clarify to everyone this is a
mock publication
that will be personally submitted (
in person
) to Archie Comics at Comic Con San Diego 2013 as a portfolio review (
and as a gift too!
). I plan to have a chat with
Paul Kaminski
(
current Editor/Executive Director of Editorial at Archie Comics
) and see what I need to do to gain a spot to work there in the near future.
And to be honest with you, many people here may think that I want to be one of the sequential artists, or be the one in charge of artistic direction (
ie in the visual sense, like advanced story boarding
) of the stories that Ian writes for the Sonic series, or be one of those who help touch up the comic art (
eg inker/colourist/letterer etc
) but the reality is I'm not really interested in those aspects - and I know for a fact that there are TONS of pros far better than what I can do for sequential art. What I'd love to do is be able to create my own magazine (
which is pretty much a sub-publication to what Sonic Archie Comics now already offer
) that will
directly link up with both aspiring artists and fans of the series and get their input for the publication.
Now this may at first sound like a crazy idea (
because of all the legalities and red-tape that may occur between artist and publisher - anyone here kind enough to give me resource material that will link up to these 'artists creative rights' in the publication industry so that I can study it in advance? Thanks!
) but really I've been doing this kind of thing for donkey years and it's something that I know that I have a talent for.
I get all excited when I can have the ability to hand pick my own team of artists every two months to help me out create this publication and bring it to life and where it should be -
which is a magazine full of top quality illustrations and concepts that will help paint the world of Mobius.
That kind of initiative, along with having fans get involved in contests and fan letters (
where they can see their own stuff get printed on the magazine
), is the kind of thing that gives me that 'spark' - it's exciting and a lot of fun for me to be able to get that 'spark'!
First impressions count and I want to deliver the best work I can to Paul.
In the review process I want to get as much advice as possible to achieving my ultimate goal of working for Archie Comics - especially in the 'Sonic the Hedgehog' department. I'm sure there is lots that I'll need to do before I get there but at least this mock publication effort will be a start for me.
Anyways, you may perhaps would like to get a much better idea on what it's this mock publication is all about right? Here I present to you,

The Idea & Application:


Sonic Art Collection is a bi-monthly publication that hosts a unique gallery of pictures that represent snapshots of events from the 'SONIC UNIVERSE' & 'Sonic the Hedgehog' canon premise and timelines (past, present and future). The gallery can also showcase concepts (ranging from organic, environmental, structural, to abstract) that will help build a visual library of what the world of Mobius (and worlds outside of Mobius) has to offer to the reader.


Every issue contains a theme that will give provide a focus for artists involved in the project when illustrating concepts. Themes are used to reduce obscurity among the group whilst achieving a unified purpose creatively. An example of a theme can be 'Villains' where artists will combine their efforts to illustrate concepts that are based on bad guys as their main focus. Another example of a theme that may not necessarily focus on a subject matter is 'Revisiting SONIC UNIVERSE cover art' where artists involved will help re-create separate SKETCH & COLOUR variants of existing SU cover arts published by Archie Comics.


Each issue is split into four main sections –


FAN FEEDBACK
Essentially a letters/Sonic grams page where the editor can publish news about the publication and give fandom an opportunity to let their voices be heard in print.
GALLERY
This is where Darkspeeds will take time to do research, prepare and complete a whole range of new art content – images that are NOT featured on any of the other 'Sonic the Hedgehog' publications' unless a senior editor requires to use them – that will fulfill the current issue's theme.
FEATURED ARTISTS
This is where Darkspeeds will take time to contract highly competent artists for hire and get them on board for an issue to fulfill a creative objective. These artists will be known as 'Featured Artists' in the publication and will be given assignments that will have the artist create art that will provide a fresh visual perspective of the theme to readers. Darkspeeds believes that having a section containing art drawn in different styles by different artists is an attraction for readers. Readers will nourish their imagination further on how the Sonic universe is perceived after observing the concepts drawn by Darkspeeds and his team of artists working on the issue.
ART CONTESTS
Art contests are a great way to get the fandom/community involved – both proactively and creatively! People love to get their art featured in print, let alone the recognition of their creative efforts being a rewarding experience on its own. We have to keep in mind about the legalities behind fan art work submissions that are to be used for print – Darkspeeds needs to get advice from his senior editors and make sure that terms and conditions are created to ensure a preventive measure on lawsuits used against Archie Comics in future.

To further elaborate on the idea of showcasing concepts let's say that on Issue 3 of Sonic Art Collection the main theme is 'Avian Civilization'. The producer (Darkspeeds) will assign himself the task of creating a range of illustrations that will paint a picture of 'Avian Civilization' for the Art Gallery section (drawings of airships that the Battle Bird Armada uses, concept artwork of Babylon Rogues before they became a team, the Grand Battle Kukku lineage, historical Babylon Garden etc).


Furthermore, Darkspeeds will provide a creative direction for the 'Featured Artists' who will complete assignments correlating back to the creative direction and theme of the issue. For instance Darkspeeds will assign 'Featured Artist 1' to work on designs of armory/ weaponry/aircraft used by the Battle Bird Armada and 'Featured Artist 2' to work on examples of what people looked like that walked through the ancient civilization of Babylon Garden – like the clothes they wore, hair styles, jewellery etc.


Regarding the online fandom the Sonic Art Collection will enable the introduction of an innovative approach to direct participation of fans - where a dedicated online forums page (such as BumbleKing.com) is created and fans get a chance to vote what they want to be featured in the book (e.g. character illustrations, landscape artwork, concept art based off cultures and events in Mobius etc). In addition to fan participation, the Sonic Art Collection will host art contests (as explained above in point 4 in 'Sections' insert) that will further nourish creativity of fans of the series and encourage discussions of Mobius Prime within the Sonic Archie community.


It is important to note that the ideas of Darkspeeds' own theme, artistic concepts, as well as all images created by the featured artists based on the given assignment are to be approved by the appropriate senior editor/writer/head artist before publication can begin.


In Conclusion:

The purpose of Sonic Art Collection is to give readers an insight to
exclusive artwork
where 'SONIC UNIVERSE' & 'Sonic the Hedgehog' artists/writers are unable to cover whilst working on the main publications. Fans will be delighted with new content not featured in the regular comics, super specials and readers digest.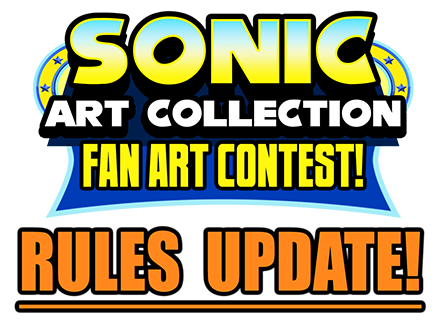 Now regarding the most recent announcement of an
Fan Art Contest
featured in the magazine (
you can preview the advert here:
), as producer of this mock publication I'm here to address some questions raised in the aftermath:
When exactly is the deadline? - As stated in the advert it is 1st MARCH 2013 (12AM EST if you want to be more specific). No more entries to be accepted after that time. Please ensure yourself plenty of time to prepare your masterpiece before the deadline.
Can I go traditional? - Yes absolutely! As long as you scan the drawing or take a photo of it, though I highly recommend the scanned method, you'll get a much more crisp clear finish that way.
I already got the book! - That's perfectly fine, how about you let me know who you like to send it to instead? Perhaps you've got a friend who desperately wants a copy of the book!
So Archie has rights to my work? - Though it says in print that they do, this publication is only meant to be a 'mock publication'. Technically both Archie or myself don't have ownership to the artwork you send through to this contest, after all, you didn't have to sign anything right?
Okay cool so what's the benefit of having my artwork published in the magazine? - Well for starters you've already taken some time to do something creative and amazing - which is awesome! The next cool thing to know is that should your artwork get published in the mag I'll be printing it and letting the guys at Archie Comics booth at Comic Con San Diego 2013 take a proper look at it! You'll get real life exposure to the pros who make the comic!
What happens to all of the other entries that didn't make it to a top prize spot? - Not to worry! I'll be posting all other entries into my journal where they'll be visibly presented in thumbnail form. So you're still getting exposure no matter what happens!
Does it have to be team specific or can I have a combination of other characters? - Yes it can be any combination you want. But I'll give more credit to those who create a full match - eg Arctic Freedom Fighters (consisting of Guntiver, Erma, Flip, Sealia and Augustus) or a logical match - eg Sonic + Blaze + Tails + Maine or another example is Mighty + Ray + Krazy Kritters FFs.
Does it need a background? - Well a background would be nice! Remember we're looking for one major kick-butt masterpiece! Give it all you can muster you Sonic Archie fan artist!
Can I include other characters/villains into the mix? - Well if it only can add value to your drawing. Please make sure that you make your prime focus to be the HEROES, not the villains (as awesome as villains may be). For example say you're creating a full scale war of Sand-Blasters vs. Dark Egg Legion Chapter, try not to overpower the HEROES with too many DEL soldiers or even the Grandmaster aka The Baron aka Uncle Beaureguard (as cool as Uncle Beau may be)! Oh and one more thing - non-Sonic Archie characters are not allowed. Keep it as canon as possible! Nuff said!
Any other details you'll need from me before I post my artwork to your e-mail? - Well how about you give me your preferred name (to be published - online and/or in-print) and where you live (city and/or state). You should know this be now if you've been reading up on Sonic Grams!
Additional rules have been added for further clarification
Single characters don't count - though I didn't clearly state it - I did say 'draw your favourite heroes' which implies more than one character. Read the rules carefully and don't ever rush your work till you are fully aware of the requirements.
Send all entries to darkspeeds@hotmail.com. DO NOT post your artwork on deviantART. Artwork can be posted on deviantART after the contest ends and the winners are announced.
I think that pretty much covers it all. Take your time with it guys and gals,
you've still got more than a month to complete this!
You're going to set yourself an example of someone who is able to provide some top quality drawings for publication so make every stroke count! Good luck. *thumbs up*