Bentley Jones 'So Much More' Contest Win
(14th April 2010)
Too awesome. I'm proud to have been placed
1st place
amongst all the other awesome entries that were presented by
Bentley Jones
(aka Lee Brotherton, famous for his Sonic the Hedgehog track:
Dreams of an Absolution
~ aka Silver the Hedgehog's theme).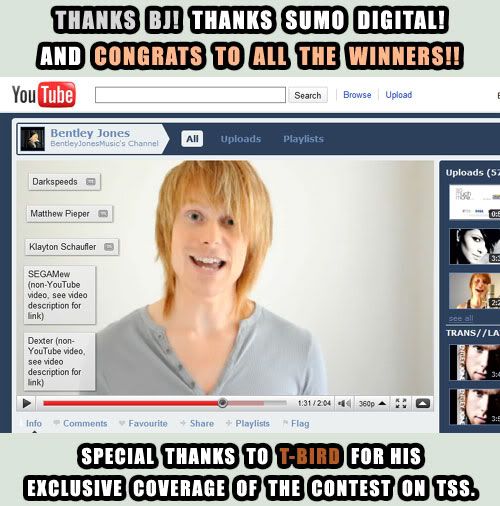 I had loads of fun working on
the video
nearly 2 months ago. And the really cool thing is I managed to pull this off all on my own. It was a challenge but a task never impossible. Thanks to everyone who have watched it and gave me
feedback
.
Before I end this, as mentioned earlier, a special thank you goes to a great mate of mine from Newcastle -
Adam 'T-Bird' Tuff
. He's been taking a pro-active approach of posting Sonic-related news on
'The Sonic Stadium'
. In his own time (whilst in his business trip to Japan) he's been letting the Sonic online community know about
BJ's contest
, encouraged people to enter and promoted it by showing fans some entries that were on his top 'favourites' list. Good on ya mate and thanks for being the cool dude you are.
SONIC UNIVERSE Colouring Competition!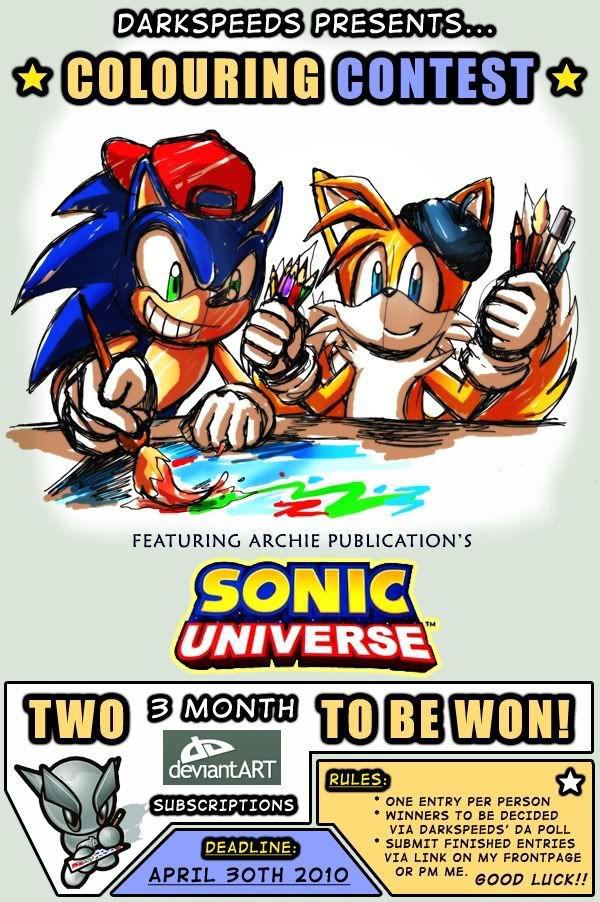 Nuff said? Get on with it guys!
There's two 3 month DA subscriptions to be won!!
Want to know which piece to colour? Just click on the image below and download it from there! Too easy.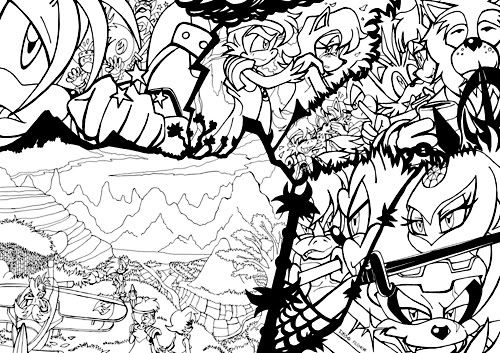 Colour it in ANY way you want -
digitally
or
traditionally
. The best one will be picked by public vote via
those who watch me on deviantART (many of them Sonic fans too!). Got it? Good. Now hop to it!
You got till
30th APRIL 2010
to do this! All the very best!
Inspired About Dragon Kingdom Saga - SONIC UNIVERSE Fan-art
(09th April 2010)
Wow! Could you believe that it's
way past April already
?
(And it's almost my birthday! Psst, it's on the 18th!

)
Anyways I'm in the mood to express my love for the current exciting journeys of Sonic, Tails, Sally and Monkey Khan to the East - ala Dragon Kingdom. I had just finished reading PARTS 01 & 02 and it's simply amazing stuff.
Credit to Sonic Archie Comics team for another wonderful story - can't wait for PARTS 03 & 04! We've yet to discover the Raiju and Shinobi clans! What awaits for the heroes? Who knows.

Geez it's already 2:30AM and I need to wake up for work in 5 hours time! So to keep this short let's show some visuals (you should know that I'm a 'pictures' person by now! I like to present behind-the-scenes stuff via photos. It's interesting to know what an artist is up to right?)! Anyways here goes.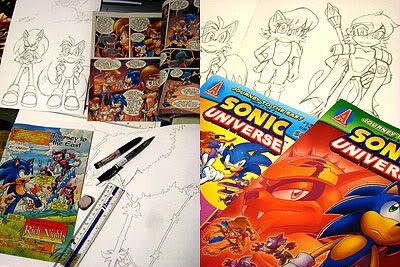 Initial concept and sketches. And WOO! Parts 01 and 02 to JOURNEY TO THE EAST!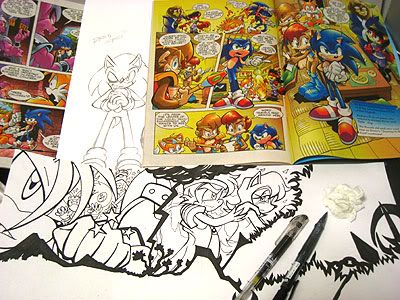 Two-page spread of concept piece. Each window expresses certain scenarios, characters or themes I feel were core to the story so far.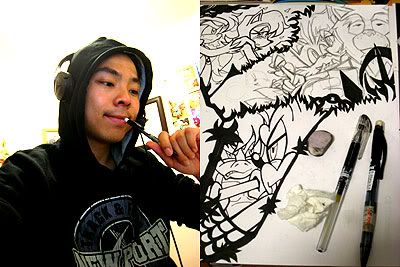 Here's me thinkin', what next? Oh how could I forget their Asian meal with the hosts at Stormtop Village? What an awesome scene. Oh and of course, 'GRRRRR!' Sonic and Monkey Khan are at it each other again.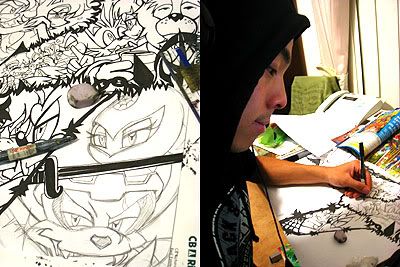 Can't forget the two clan leaders - Gossamer Clan (or Spider clan, led by Bride of the Endless Reach) and Yagyu Clan (or Bat clan, formerly led by the Iron Dominion and Bride of Rich Nights, currently led by Yagyu Lords)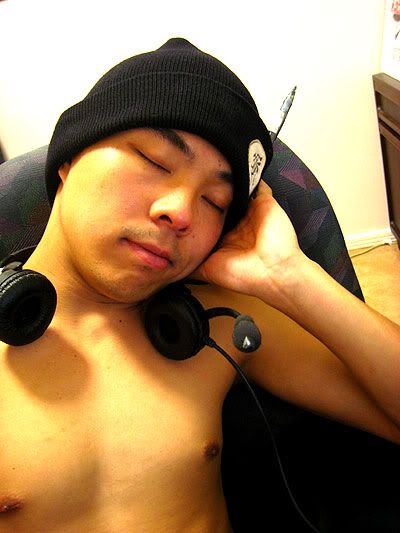 Time for bed! Good night! Uhm... I need to get myself out of the chair somehow... Oh and it's a hot autumn night BTW... So uhm.... Yeah... *yawwn*...... Zzzzzzz....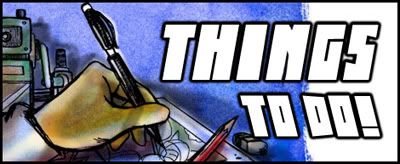 Finish final 3 pages to SA2 Fan-Comic.

Prepare for another SONIC UNIVERSE: Journey To The East fanart piece?



Catch up with SUMMER OF SONIC 2009 videos.

Get on with sketch-work on PROLOGUE to GRAND HUNTER = 18 pages.



Waiting for package containing ALL Asterix comics to arrive to read, study and be inspired.