Mua ha ha ha! Fear thy silliness of mine thou art thee recording session!
And beware of Shadow Chao, Silver's banana and Sonic's tears! That is all.
Oh, oh and ooooooh! Keep those submissions coming!
I've been receiving some AMAZING entries
in the last couple of days approaching the fan art contest deadline! You guys and girls rock! Oh and stop making my job harder to pick a winner! Geez!


Ghosts of the Future: The Motion-Comic
Hey guys and gals!
Have you lot been keeping track of Evan Stanley's (via

) excellent
Ghost of the Future
comic series? You bet your gold rings you have. But have you seen that motion-comic drama recently produced by a friend of hers named Koji Okida (via

)? Well if you haven't already seen it check it out - it features not only the creators voicing characters (
Evan as Tikal and Koji as Dr. Eggman
) but also our talented voice over (
and fantastic mate of mine
) Kovabomb (via

) as
Sonic the Hedgehog
and yours truly (via

) as
Shadow and Silver the Hedgehog
.
I had a blast voicing the two hedgehogs and right now as we speak I'm recording lines for Koji's next project - Issue #3 of GOFT motion-comic drama!
Just giving you guys a heads up on the project, he should have it done as soon as he get's all the voices he needs.
Right now I'm re-watching the video to prep myself for issue three. I find Blaze's dad amusing!

Anyways till next time - don't forget to wear your pants (
unlike a certain hedgehog!
).
Oh and also! So far after posting my latest update on the
SONIC ART COLLECTION Fan Art Contest
I've been receiving another bucket-load of fantastic entries! Keep them coming! You only have a couple days left before the official deadline! Good luck!! *thumbs up*


LAST CHANCE!! Sonic Art Collection Fan-Art Contest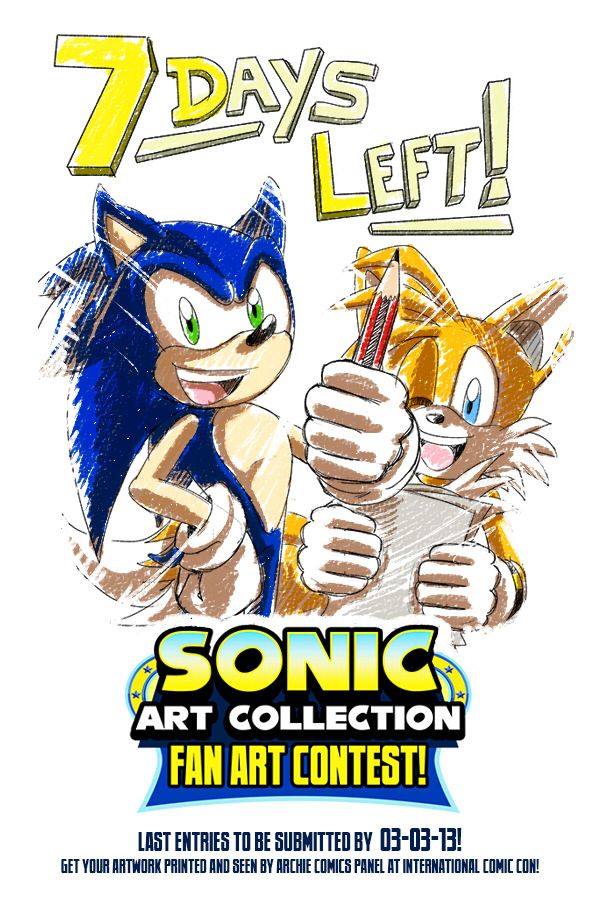 I've extended the contest submissions deadline by a few more days
- the third day of the third month of the thirteenth year of the new century sounds pretty cool to me.
So far I've received a total of 20 fantastic entries
and some of you guys and gals have requested to have the deadline extended just a little more so consider your request granted!
Remember this is a unique opportunity to have your artwork printed and also get seen by the Archie Comics team who are attending
International Comic Con in San Diego
this year - every year it's like the holy grail for comic book lovers, creators and seniors who run the business of sequential art in print. This is also the place to be for fans of their favourite TV shows/movie/film/anime; avid video gamers; and totally dedicated cosplayers who go to no end to showcase themselves dressed up with some amazing costumes (
ala playing as their favourite characer
)!
Nevertheless for more details on the rules and such please consult this
link
.



Good luck everyone - and also feel free to do yourself a favour and
start posting your entries on your deviantART account
so that I link them here on this page!
On top of the announced changes to the rules everyone who have submitted to this contest will have their work featured in the magazine (
not just the winners
).
Winners of this contest (
three very lucky winners that is
) will win themselves
a copy of the magazine
when it's all formatted ready for print! Now that's an awesome prize worth seizing for cuz I'm only going to print them ONCE.
So go on, what are you waiting for? Starting drawing your totally way past cool masterpiece and have a shot at winning something very unique to keep -
at the very least you'll have your contributions published in the book
! *thumbs up*